A delicious spiced chutney, served best with oatcakes and a mature cheddar.
The Ingredients
5 plums, destoned and chopped into small pieces

1 cooking apples, peeled and chopped

2" inches root ginger, grated

100ml cider vinegar

100g caster sugar

Juice and zest of 2 oranges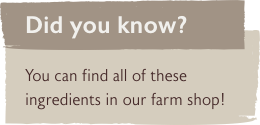 Print This Page
The Method
Place the plums, apples, ginger, and vinegar into a pan.

Bring to a simmer and cook gently for 25-35 minutes until very soft.

Add the sugar and juice of the oranges, add the zest.

On a low heat allow the sugar to dissolve and then simmer for 30 minutes until thickened.

Spoon carefully into hot clean jam jars and cover with a lid.

Leave to cool and store in a cool, dark cupboard for up to 6 months.